"Finally a friend told me about La Posada. I came and I was surprised because it doesn't look like a shelter. It looks just like a home." ~ Marquita
---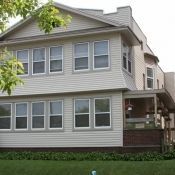 La Posada Family Emergency Shelter offers temporary housing and supportive services to homeless families of all faiths and backgrounds in the Toledo area. Direct services through La Posada include shelter, food, clothing, personal hygiene products and case management.
Catholic Charities' staff empower families to achieve self-sufficiency through programs that help them identify goals and build on their strengths to attain them. By providing shelter, supportive resources and linking people to resources in the community, Catholic Charities helps vulnerable families achieve stable housing and become self-sufficient.
Since its opening 30 years ago, La Posada has provided shelter to more than 2,000 families.
What does La Posada Mean?
The name La Posada originated from the Spanish holiday, "Las Posadas." The event is a nine-day celebration that represents the difficulties that Joseph and Mary, the mother of Jesus, faced in search of a room while traveling to Bethlehem. 
Groups of children and adults go from house to house singing a traditional song requesting lodging (posada). At each house, the owner responds with refusal until Mary and Joseph reach the designated site for the party. The owner, or "innkeeper," recognizes Joseph and Mary, and they are finally allowed in. Today, Latin American countries continue to celebrate this holiday each year before Christmas.  
Catholic Charities' La Posada Family Emergency Shelter was initially established to serve the Hispanic community but now serves all families in need of a place to stay.
Seeking Shelter?
Intakes for La Posada are processed through the United Way. For immediate assistance, please dial 2-1-1 from any landline or 1-800-650-HELP to connect with an information and referral specialist. To speak with a La Posada staff member, dial 419-244-5931 for all other program and service inquiries.
For more information on our shelter or on how you can help, please contact Jeanelle Addie at 419-244-5931 or email jaddie@toledodiocese.org.
LaPosada Staff
Jeanelle Addie, MA, BSW, La Posada Program Coordinator 
Willi Meyer, CHW, Activities & Facilities Manager
David Pattin, CHW, Residential Specialist II
LaPosada Advisory Board
Wanda Cannon, Community Representative
Sirlema Crowley, Area Office On Aging
Cynthia Papenfus, RN (retired)
Lutricia Prater, Community Representative
Gloria Smith, RN, Lucas County Health Department
Michelle Smith-Wojnowoski, Prenatal Outreach Services Manager (NHA)
Danielle Tedrow, Community Representative (former La Posada guest)
Jennifer Voigt, Catholic Charities Permanent Supportive Housing Program Coordinator