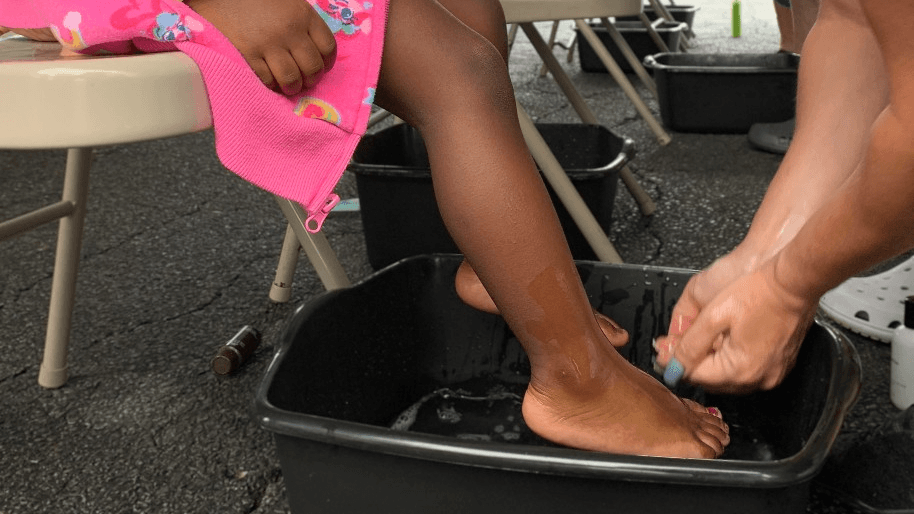 TOLEDO—Donations of NEW athletic shoes and socks, toddler size 10 up to adult size 10, are needed to help kids start the new school year off on the right foot!
"Each year we've provided new shoes, socks and school supplies to more than 600 school-age children," says Sue Shrewsbery, Director of Helping Hands of St. Louis. "We focus on East Toledo families, but no child will be turned away, if we have their size shoe. First come, first served."
This year's 10th Annual Shoe Fest will be held Saturday, August 12 from 9 a.m. – Noon at 443 Sixth St., Toledo, OH.
Donations of children's backpacks, new and gently used children's books, and school supplies such as paper, pencils, pens, markers, crayons, glue sticks, dry-erase markers, hand sanitizer, tissues and Ziploc bags are also welcomed.
Volunteers are also needed, adults and teens 16+ (must be accompanied by an adult) to set up the event on Friday, Aug. 11, from 9 a.m. until Noon and during the Shoe Fest on Saturday, Aug. 12, from 7:30 a.m. – 1 p.m. Volunteers wash feet, change water, fit children with shoes and socks, give out school supplies, help in the Clothing Center, run games and activities, and help with registration, parking and clean-up. This is a great youth ministry opportunity for kids and families to serve together. Please contact Byron Wynn, Volunteer Coordinator, bwynn@toledodiocese.org or 419.214.4950.
Call the Helping Hands of St. Louis Office at 419.691.0613, ext. 101, if you are interested in becoming a tent sponsor, making donations, or volunteering.
Donations can be dropped off at Helping Hands 2nd floor Office, 443 Sixth St., Toledo, OH, preferably by Thurs., Aug. 3 for sorting, though they will be accepted through Fri., Aug. 11. Please clearly mark donations as "Shoe Fest."
Thank you in advance for your generosity and support of Catholic Charities of the Diocese of Toledo's ministries! #TagandShare