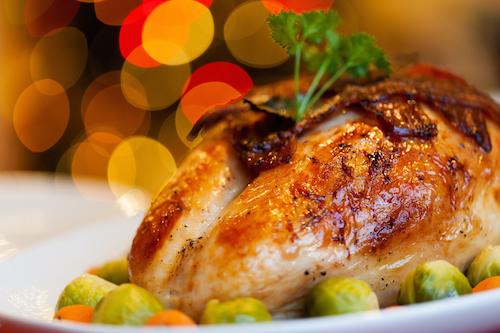 Traditional Thanksgiving dinners will be prepared and served at Helping Hands of St. Louis and guests will be able dine-in again this year. The free meals will be served between 10:30 a.m. and 12:30 p.m. on Tuesday, November 21 at Helping Hands of St. Louis, 443 Sixth St., Toledo.
"Saint John XXIII Catholic Community volunteers are preparing hundreds of turkey dinners with all the fixings—mashed potatoes and gravy, stuffing, green bean casserole, sweet potatoes with marshmallows, cranberry sauce, dinner roll, pumpkin pie and a beverage," says Sue Shrewsbery, Director of Helping Hands of St. Louis. "In years past, we've served upwards of 350 people and our guests really look forward to our holiday dinners each year for the food and also the fellowship."
The need for Helping Hands' services continues to rise. A record high 4,884 hot, freshly prepared meals were served last month. In the past three months, the number of individuals choosing groceries from Helping Hands Food Pantry is up 41 percent, and the number selecting clothing and household items from Helping Hands Clothing Center is up nearly 10 percent. Catholic Charities Diocese of Toledo also provides Crisis Navigation services to guests as needed.
Helping Hands of St. Louis, a ministry of Catholic Charities Diocese of Toledo, has been serving the poor for over 40 years.